GW-MOD(A)
Modbus BMS gateway for Midea VRF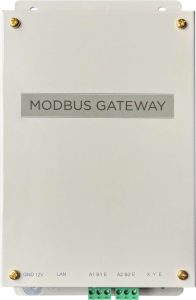 Λειτουργίες & Χαρακτηριστικά
Midea VRF Controller for controlling the VRF equipment in an intelligent and efficient way. 1 XYE ports. Can connect maximum 8 systems 64 IDUs and 32 ODUs.

Modbus RTU OR Modbus TCP/IP protocol support is available.


Error Code, Model, Indoor Temperature, On/Off, Mode, Fan Speed, Temperature, Mode Lock, Fan Speed Lock, Remote controller lock, Wired controller lock, Temperature limits, Swing Lock etc.
Mode, Fan Speed, Temperature
Operating mode, On/Off, Operating indoor units, Error code etc.
Specifications

Input power
12V DC
Communication interface
1XRS485 interface 1XRJ45 Ethernet port
Gateway Size
225*128*28 mm
Weight
890g
Σχεδιάστε το δικό σας σύστημα VRF
και δημιουργήστε την προσφορά σας για τα κλιματιστικά ΜΙDEA VRF INTVERTER στέλνοντας email εδώ
Πλήρης τεχνική υποστήριξη των μονάδων από εξειδικευμένο τεχνικό προσωπικό. Τηλεφωνο Πανελλαδικης Τεχνικης εξυπηρετησης Midea MBT  2105288834
Email: clima.service.midea@tlg.gr